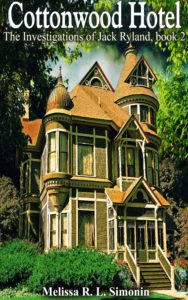 After a rapid descent from the edge of a cliff, Jack Ryland needs a safe place to sleep off his injuries. Cottonwood Hotel fits the bill.
After many previous stays, Jack knows it's quiet and has excellent room service. He places a reservation online, and with his beloved Charlotte at the wheel, they make the long drive across state lines for a week of recuperative rest.
Cottonwood Hotel is still quiet. Very quiet. It has excellent room service. It also has new management, and it doesn't take Jack and Charlotte more than half a second to realize something isn't quite right. In spite of it, after hours on the road, little sleep, and in need of food, they choose to set curiosity aside and keep their reservation.
All Jack needs is a week of complete rest, and they'll be on their way again. He's recovered from concussions before. He knows when to investigate, and when to set deducing aside. He can do this. After all, his intelligence is almost as important to him as his good looks.
For Charlotte, it's not that simple. While Jack sleeps, she inadvertently stumbles into people and observations that send her curiosity into overdrive.  In spite of it, she's determined that nothing will interfere with Jack's complete recovery and keeps her questions and growing concerns to herself. If she was dealing with an ordinary guy, perhaps that would work. Jack however, would have to be in a coma not to realize that whether she intends to or not, she's becoming involved. It's a relief to both of them when the day comes that Jack's headaches are gone, and they can leave this mystery behind.
If only that day came a day earlier.
Release Date October 31, 2016