In what order should the books be read?
I've been asked this a number of times, so I hope this will clarify that somewhat…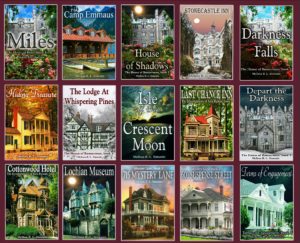 Miles, Camp Emmaus, House of Shadows, Stonecastle Inn, Darkness Falls, Hiding Treasure, The Lodge at Whispering Pines, Isle of the Crescent Moon, Last Chance Inn, Depart the Darkness, Cottonwood Hotel, Lochlan Museum, 715 Mystery Lane, 601 Suspense Street, Terms of Engagement.
This is not chronological, and it isn't necessary to read the books in this order. Which is fortunate, since Lochlan Museum is in the notes stage, and doesn't have a single page written as of the writing of this post.
In some books there is crossover. In some books there is information that will infuse a seemingly innocuous reference in another book with relevance. What would otherwise leave little impression, is suddenly recognized as foreshadowing. So is it necessary to read the books in this order, in order to get the most out of them? No. But, this is my answer to the question.
Happy reading, in whatever order you choose!