When twenty-five year old mystery/suspense writer Will Matthews and his dog Fox meet twenty-one year old Gemma Randall, caretaker for the house next door, Will is afraid that the predictions of family, friends, and his ex-fiancé have come true after all.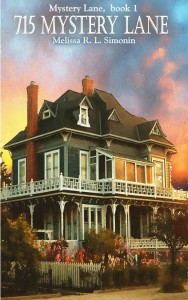 But Will hasn't lost his mind, and the character in his current book has not become more real to him than reality. Gemma is very real, and far more interesting than writing about the character that shares her name. After meeting her, the reclusive writer soon finds himself plunged into a real-life mystery.
Someone doesn't want 715 Mystery Lane occupied, and is determined to drive the new caretaker out. Will and Fox come to Gemma's rescue and between the two of them they're determined to protect her and find out who doesn't want her there and why.
Will, aided by Gemma and Fox, begin to unravel the mystery surrounding the house. What they discover is beyond anything they ever imagined, but it's not without consequence. Their newfound knowledge puts Gemma in danger and unless Will can find a way to save her, it will cost Gemma her life.
(c) 2015, Melissa R. L. Simonin