Twenty-one year old newlyweds Miles and Anika Bannerman are ready to put the past behind and have a "normal" life… but they're anything but normal, and their first day back on campus they discover that life isn't going to be either.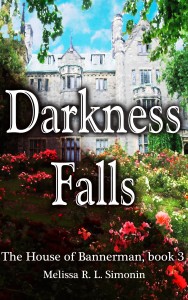 Anika begins to realize that Miles isn't the only one with unusual abilities. The darkness she's sensed before in some people is darker than ever, and it's hovering over a visiting professor. She feels strongly that there's a mystery and an unsolved murder associated with him, and that it's her responsibility to find the truth. Miles and Anika work together to investigate his past.
The professor does have something to hide, and he suspects that Miles and Anika do too. He begins his own investigation and learns enough to threaten their hope of ever living a normal life.
It's a race to find evidence and prove the professor guilty before he can set Miles up to prove that he has unusual abilities. Much is at stake, but when a friend disappears and Miles and Anika discover that she's his next victim… the only thing that matters is using their combined abilities to find and rescue her before it's too late.
(c) 2015, Melissa R. L. Simonin