Twenty-four year old Alex Mitchell walked into the antique store that morning intending to pick up a lamp for his little sister. Instead, he thwarts a murder attempt, forgets the lamp, and walks out with twenty-one year old Tressa Leighton, a girl with a price on her head and no idea who put it there.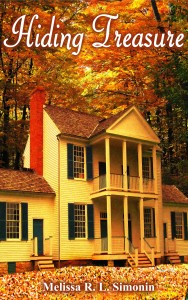 After risking his life to save Tressa's, Alex won't walk away and leave her to fend for herself against an unknown adversary who won't be satisfied until she's dead. Alex is determined to protect Tressa, but the only way to end the attempts on her life is to discover who is determined to kill her, and why.
While the official investigation flounders with no suspects and no motive, Alex and Tressa do some investigating of their own, and it's a race to uncover a pathway to the past and find her enemy, before her enemy finds her and robs Alex and Tressa of their future.
(c) 2015 Melissa R. L. Simonin