When 28 year old private investigator Jack Ryland walked into his cousin's security agency that afternoon, the last thing he expected was to walk out as bodyguard to 23 year old Cheryl Adams.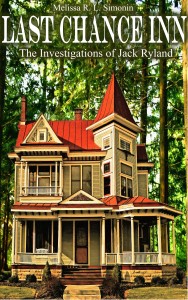 It's simple, his cousin says. There won't be any trouble, his cousin says. Whoever's after her can't possibly track her where you're going. It'll be like a vacation, it'll be fun, you'll stay at a great lodge, it's just one week out of your life. Did I mention I'm desperate with no one else to assign? It's no big deal. All you have to do is keep an eye on the girl.
Nothing is ever that simple.
Jack accepts the assignment to help out his cousin and to get out of escorting his sister's friend to a wedding, having no idea what he's getting himself into.
It doesn't take long for Jack to find out. The lodge is not a lodge at all, the seminar is not on gardening, skipping out on activities is a no-no, Cheryl doesn't think the strong, chatty type makes much of a bodyguard, and Cheryl's adversary is far more dangerous than Jack is led to believe.
Jack's cousin was right about one thing. It's fun. For him. For Cheryl… Jack determines to always sit on her left side to keep her from going for his gun.
In spite of Jack's determination to avoid attachment and Cheryl's ambivalence toward her knock-off bodyguard, she soon becomes more than an assignment to him.
Cheryl's adversary is relentless, and determined to find her. Jack is even more determined to protect her at any cost, even with his life, and that just may be the price he has to pay.
(c) 2015 Melissa R. L. Simonin