Usually you get what you pay for, but twenty-one year olds Miles and Anika Bannerman get a whole lot more than that when they become the new owners of The Lodge at Whispering Pines.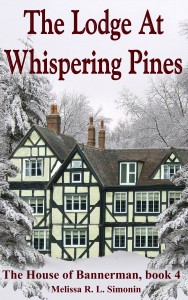 Miles knows Anika needs a break after a difficult fall semester. Hoping to give her a reprieve from the darkness she is able to sense and the responsibility of putting life on hold to investigate when she encounters it, Miles buys the Lodge and arranges an internship for her through the Bannerman Foundation.
Miles and Anika arrive only to discover the free-with-purchase item that comes along with it.
No wonder the previous owner was in such a hurry to sell… and the staff fled the premises. The transparent apparition with luminous blue eyes is a little more than most people can stomach. She's not quite all-in-a-day's work for Miles and Anika, either. In the middle of this business crisis, a family emergency leaves them in charge of caring for Anika's eleven year old sister Doreen, as well.
So much for a break!
Calling on their friends and a few trusted employees, the couple determines to keep the Lodge in business, investigate the source of the haunting and remedy it, all while preventing the inquisitive Doreen from finding out just how unusual Miles and Anika's life really is.
So much for their carefully laid plans.
(c) 2015, Melissa R. L. Simonin