It's not a hallucination, it's not imagination,and 19 year old Anika Riley hasn't lost her mind even though she's the only one seeing things.  The shadows that roam the House of Bannerman estate are just as real as they are dangerous.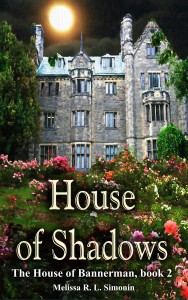 A bizarre series of seemingly unrelated events follow fiancés Miles and Anika from castle to college and back again. Amidst juggling classes, friends, family, and wedding planning, they battle an unknown enemy intent on casting doubt on their loyalty to each other. With the help of their friends, they are determined to solve the mysteries that are quickly multiplying around them and find the ones responsible.
But things are not at all as they appear to be. Forces have been set in motion and history is determined to repeat itself, and it won't be satisfied unless it destroys them both.
Miles and Anika find themselves plunged into a battle for each other's lives on the eve of their wedding against an evil far more sinister than they ever imagined. It's a fight to the death, and it will take more than self-sacrifice for either one of them to survive this time…
(c) 2015, Melissa R. L. Simonin